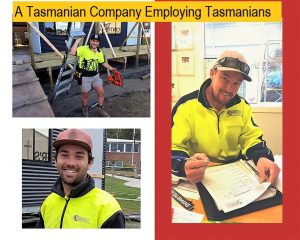 CDC DEVELOPMENT (Tas) Pty Ltd has been an established building and construction company for over 10 years. We have earned a solid reputation in the building and construction industry with an enthusiastic, highly skilled and competent team with wide ranging expertise. From our centrally based workshop and office in Derwent Park, Hobart, CDC are well placed to undertake a diverse range of projects. We can comfortably handle commercial projects ranging from the smallest internal refurbishment to large scale multi storey builds of the most complex nature.
OUR MISSION
CDC Developments mission is to utilise their team of highly skilled hard working staff, to deliver excellence to the Tasmanian community. CDC Development is a growing construction and building company that undertakes to supply a product to the community whilst supporting clients through the process of construction and building.
From Management through to apprentices, CDC delivers timely and quality work throughout Southern Tasmania.
The same quality and efficiency is provided by CDC to the local home owners' market and private construction industry,
We have undertaken and been successfully awarded Federal, State and Local Government projects.
SUPPORT AND SPONSORING IN THE LOCAL COMMUNITY
For many years, CDC Development has been involved with Guilford Young College and the Tasmanian Catholic VET Pathways. GYC is part of the Southern Tasmanian Catholic College Trade Training Centre along with the 7 other southern based catholic colleges. In 2017, Tasmania won the School Pathways to VET Award.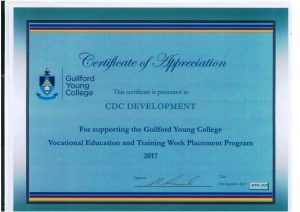 CDC Development has developed and aims to uphold a strong network with high quality trades and suppliers within the state. Utilising only the highest quality services and supplies, CDC Development recognises the importance of delivering a product that the client will be proud of into the future.
We believe in giving back to and supporting the Local Community
The Hobart Football Club (on the Domain) and the Hobart Phoenix Basketball Association are part of our Sponsorship program for local Sports Clubs.